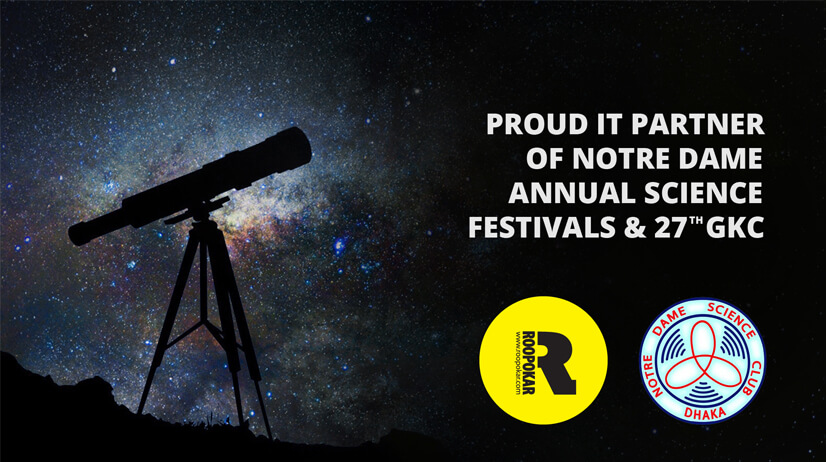 Notre Dame Science Club with its IT partner `Roopokar Creative Studio` a professional web designing company in Bangladesh,  is hosting the nationwide multidimensional competition "Notre Dame Annual Science Festival 2017 & 27th GKC". The nationwide event consists of around 14 events and more than 5500 students from various institutions. The basic motive of the event is to sharpen the student's skills and strengthen their adaptation ability in various sector. The organizers, along with its partners, with their efforts, wish to increase educational spirit and innovative inner architectural ability in the student's mind is the main goal of the following event.
Notre Dame Science Club with its motto ` Science in Human Welfare, from its inception in 1955 has been working to enrich the knowledge of its students in the science field through creating and participating various theoretical and practical platform. Notre Dame Science Club as an imminent institution also works in organizing various fairs, competition, Olympiads in a nationwide platform to compete in a bigger contest and bring out the best from the students. The institution by this way helps to sharpen the caliber of interests and quenches the thirst for knowledge of its students.
"Notre Dame Annual Science Festival 2017 & 27th GKC" hosted by Notre Dame Science Club, is going to be inaugurated on the 19th August 2017 and after its 7 days of rigorous programs, the event will end on the 26th August 2017. This is the biggest science fair in the country. More than 5500 students from 90 institutions will participate in this rigorous nationwide competition. The school premises will be charmed and active throughout these working days with the guardians, students, club members, life time members and many another sector of people. The annual magazine of the Notre Dame Science Club `Audri` is also going to be published and handed over to the audiences after the event. The caliber of students in various subjects including Physics, Biology, Astronomy, General knowledge, IQ, Math etc. would be tested and acknowledged the talent throughout this event. This event would also create a platform for networking and getting together for and exchanging and showcasing knowledge for the students of various schools. Many famous journalists, scientists, educationists would visit it which would be a great opportunity for students to learn.
Roopokar Creative Studio since its beginning in 2008, has been renowned nationwide for its Digital Marketing, Website developing, Software developing services. It helps other business corporations with classic web design and technological aids to thrive in the rapidly changing global market. Its goal is to bring up innovative product solutions and increase market share through its quality customer service. Its headquarter is located in Mirpur DOHS, Dhaka. It has also worked and involved in various social, environmental, educational activities. It encourages students in enriching knowledge and spreading their creativity by creating the platform for various competitions.