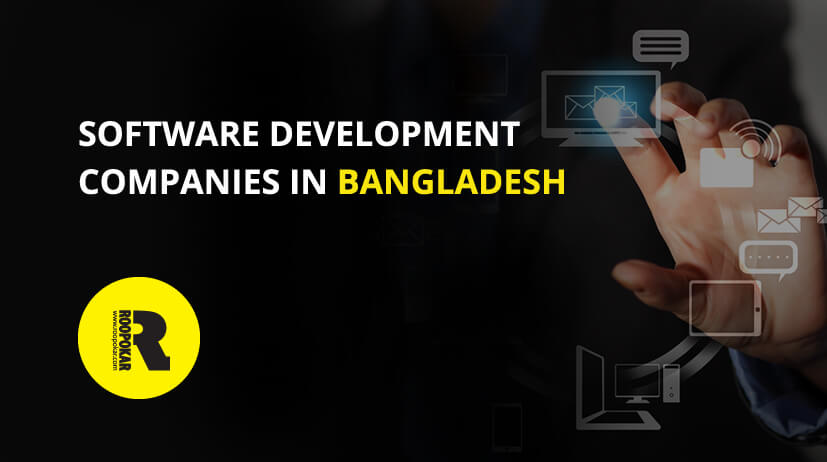 Because of easy access and booming the internet users up, the software industry has become a very potential sector in the world economy. The software companies in Bangladesh are now facing positive support and investment from the government as well as international organizations. This industry has grown by 4.6% to reach a value of $2596 billion in 2012 and is expected to exceed $3223.4 billion by the very end of the year 2017 with having an anticipated compound annual growth rate (CAGR) of 4.5% for the very last five years. Understanding the market potentiality and the benefits of technology, the Government declared to accomplish the project of `Digital Bangladesh` within 2021. The development, this industry has made in last few years created a huge impact in the national GDP of Bangladesh. Software companies in Bangladesh are working hard to create technologically advanced business infrastructures that would help the client organization.
Bangladesh is going through a technological development phase to cope with the international market. Bangladesh has been recognized as one of the emerging IT outsourcing and software exporting countries in Southeast Asia in recent times.  In a study among Asian countries by Japan International Cooperation Agency in 2008-08, Bangladesh was declared first in software service competitiveness and third in competencies, below India and China. In a recent study conducted by the world bank, it has been declared in 2008, triple-digit growth for Bangladesh in IT services and software exports.  The Internet penetration has also grown to 21.27% in 2012, up from 3.2% three years prior. The Government now expects to add 7.28% to national GDP growth by 2021 from this industry.
Before 2005, the software companies in Bangladesh was totally unsure and unpredictable about their business. Many software companies gave up their business due to lack of enhanced employees and a strong technical background of the country. But, later on, the situation changed because of the booming growth rate in the IT industry. Due to this, more people were encouraged to join in this sector and due to this trained technical manpower, the software companies have been providing better products and services for their clients.  Software companies in Bangladesh are now not only providing software for the local market, but they are also exporting software in the outer world. Despite having many setbacks, the software industry in Bangladesh has expanded by 56% in the very last financial year, the highest growth rate of all sectors, achieving export revenue of US$ 100 million which was a milestone for the country.
Software companies in Bangladesh are now providing various type of software services for their concern business corporations. Nowadays, almost all the large as well as the small business organization use software for their daily purpose. The software has made tasks of these companies faster, easier and accessible from anywhere. Some of the core business software these companies use are Marketing, HR management, ERP System, Inventory, Accounting etc.
Marketing: Companies use this software to increase their promotion through e-mail marketing, SMS marketing etc. Also, companies can accumulate daily sales data and operate sales related activities through this software.
HR management: HR software is used to evaluate and hire new employees. Through this software, managers can easily observe employee nature and performances that would help them to contain high-performance employees through employee evaluation process.
Inventory: It is sometimes a huge hassle to keep track of their inventories. With the help of this software, managers can count on the inventories, that company has in a very easy and effective way.
Accounting: Accounting software is used to balance the daily transactions of a company. A manager or decision maker can access this software from any place at any time. So, they can evaluate the information to evaluate the daily profit or loss, analyze the reason behind it and make solutions to make the profit. So, this software facilitates the company to best achieve its goals and objectives in the field of accounting.
ERP System: Enterprise resource planning software is a business software that accumulates various types of operations regarding planning, developing, sales etc. For a large organization, it is very effective as they have to calculate a huge set of numbers at a time and plenty of operations to do.
The software companies in Bangladesh are working hard and so hard to bring innovative and useful products according to their client needs. Some of them also provide customizable software for any business corporation. With the growth of internet and technology, these software companies in Bangladesh are creating a heavyweight technological infrastructure that can provide any solutions and can beat any other companies in the international software industry.
Top ten software companies in Bangladesh
1.Kazi IT
3.Tiger IT Bangladesh
4.Data Soft
5.Sky High IT
6.Beyond Tech and Innovation Ltd.
7.Techynaf
8.Icra soft
9.Codage Corporations Ltd.
10.Kaz Software
The Roopokar creative studio is a web and software development and digital marketing firm that has been providing its unique products and services since 2009. Its main goal is to provide unique customer service through its unique technology products and increase its market share.